"Three guns now this shouldn't be fair"Edit
Mule Kick
Edit
Mule Kick is a Perk first found on the Moon map. It is on Call Of Duty Black Ops and it has been added to all the other zombie maps. It isn't on the Wii game system. The perk itself is $4000 points. You can buy it BEFORE the power is turned on. It gives you the ablity to have 3 guns instead of the normal 2.Basicly instead of having Ray Gun and Thundergun, you can have Ray Gun, Thundergun, and ballistic knife. Good combo isn't it?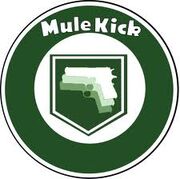 Ad blocker interference detected!
Wikia is a free-to-use site that makes money from advertising. We have a modified experience for viewers using ad blockers

Wikia is not accessible if you've made further modifications. Remove the custom ad blocker rule(s) and the page will load as expected.